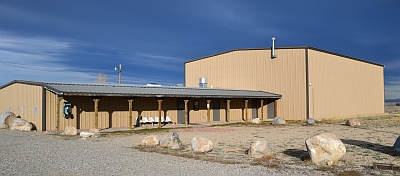 Our purpose is to provide recreational alternatives for the residents and property owners living in and around Clark and Pioneer, Wyoming in Park County, Wyoming.
Check the Events page for upcoming events.
To reserve this facility for your activity or event please see the Reserve page and contact the Recreation Coordinators Raquel Canny at 307-899-7483 or Danny Canny at 307-202-0570. New Clark Pioneer Rec Center fees are reasonable for large or small events!
The Board of Directors has hired a new Rec Center Coordinator Team: Raquel and Danny Canny! Their contact numbers are: Raquel: (307)899-7483 Danny: (307)202-0570. If you would like to use the Rec Center, please contact one of them so they can coordinate the use of the center.
The Park County Health Department recommends that social distancing continue to be practiced while in the Rec Center. If you are feeling ill, please don't enter the Rec Center.
Free Classes at the Rec Center...See the Feature Page
We'd love to add your photo of the Clark area to our Website. If you'd like to share it, please send it to coordinator.cprc@gmail.com.
How to find us...



Come to Edelweiss Corner on Highway 120 and turn toward the mountains on Road 1AB. The Center is 4.5 miles from Edelweiss on the north side of the road just before the turnoff to the Clark's Fork Canyon, across the road from the Clark Volunteer Fire Department building.